Harrington Cavaliers consists of Susan & Allyson Gonyo, a mother-daughter team of dog fanciers located 60 miles north of San Francisco, CA in the beautiful Wine Country of Sonoma County.  

We first discovered the Cavalier King Charles Spaniel in January of 2003 while attending the Golden Gate Kennel Club dog show in San Francisco, CA.  At the time, we were looking to add a new pet to our family.  We had always had Golden Retrievers, who we admired for their sweet and sporting nature and for their tremendous willingness to please.  However, as much as we loved the breed, we felt that a smaller dog would better suit our lifestyle, since we already had a pair of young pet Goldens at home.  So, we set out in search of a breed similar in temperament, but much smaller in size.  After perusing the show and meeting several different breeds, we came across the Cavaliers who had just begun showing.   Each Cavalier was just as sweet and happy as the next one and their tails never stopped wagging!  Between their friendly, upbeat demeanor and those ever wagging tails, it didn't take us long to realize that this was the breed we'd been looking for. 
We began our search shortly thereafter, and in October of that same year, we brought home our first Cavalier in the form of a 9 week old tricolor boy we called Oliver.  Although Oliver did not turn out to be our first show dog, he was an exemplary companion with the most charming disposition.  We immediately fell in love with him, and with the breed, and knew one was not enough!   With the addition of our next Cavalier, a blenheim boy named Harry, in 2004, we were introduced to dog shows...and we haven't looked back.  

Since we began showing in 2005, we have become active exhibitors and have bred, owned, and/or finished, to date, a total of 21 AKC Champions, 9 AKC Grand Champions, and 4 CKCSC, USA Champions.  In January of 2010, we had the thrill of finishing our first homebred Champion, GCH Harrington Pardon My French, who then also went on to become our first homebred Grand Champion as well.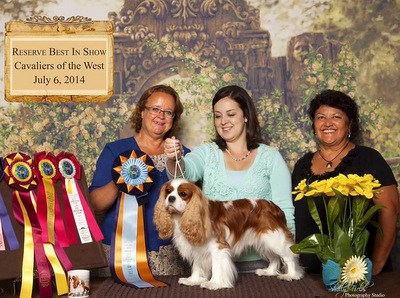 Allyson (handling) and Susan pictured winning Reserve Best In Show with
CKCSC-USA CH & AKC GCH Covington True Blood under Judge Sara Nordin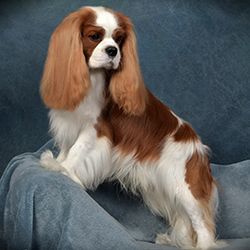 One of our young homebred boys,
GCH Harrington Haute Stuff 
(CH Covington Makers 46 x CH Harrington Haute Couture)
Today, we are active members of several Breed & All Breed clubs, including the Cavalier King Charles Spaniel Club, USA, Cavaliers of the West, and the Bay Area Cavalier King Charles Spaniel Club, as well as the Mensona Kennel Club.  Susan & Allyson both currently serve on the Board of the Cavaliers of the West, in addition to serving on various committees at both the National and Regional level in both the AKC and the CKCSC, USA.

We don't breed very often, and only plan a litter when we are in the position to keep something ourselves, but we strive for a balance of health, temperament and quality in all of our breedings.  All of our Cavaliers are dual registered with the AKC and the CKCSC-USA and are actively exhibited in both venues.  We take great pride in our Cavaliers and in their show ring successes, but admire them above all else for their companionship and for the love that they give, as they are first and foremost our beloved pets.  
Susan & Allyson Gonyo
Harrington Cavaliers
Contact Us